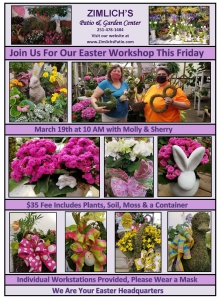 Molly and Sherry's Easter Workshop is this Friday and have you signed up?  This fun and educational event is held at the Garden Center from 10:00AM-11:00AM.  You will need to make a reservation due to limited seating. Call us @ 251.478.1484.  A $35.00 fee will give you plants, soil, moss and a container.  Each student will have their own work station as we continue to practice social distancing.  Please do wear mask.  Let Molly and Sherry help you have a best Easter season ever. 
Like what you see?  Please join us on Facebook for more great plants and arrangements.
We are Your Easter Headquarters.