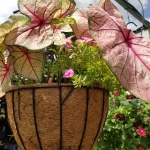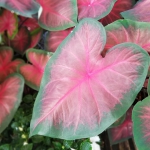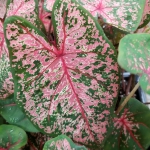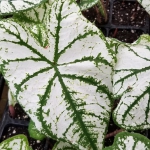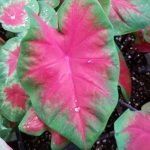 We are starting SERIOUS GARDENING WEEK with an important border plant, Caladiums.   Caladiums are also perfect for your Hanging Baskets.  Now is a great time to plant your Bulbs,  Our Bulbs are Value Priced @$2.39 each, $29.99 per dozen or $299.99 per case.  Tommy has 12 different colors of the jumbo size to choose from. 
Some Caladium tips:
 Take the center out of the bulb for a fuller plant
Dark Red/Pink leafed Caladiums do better in the sun.
White leafed Caladiums do better in the shade.
Use bone meal instead of Nitrogen fertilizer.                                                                                                                                                                                        
Meet with our Design Team if you have any questions.                                                                           
We are Your Total Care Garden Center.