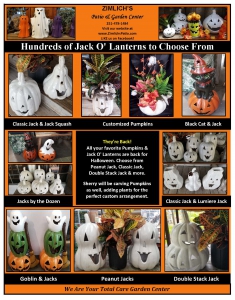 Have you started to decorate yet?  If not, stop by the Garden Center before the weekend, purchase your Jack O Lanterns and pumpkins and let the decorating begin. We have hundreds of Jack O Lanterns, pumpkins and other decorations for you to choose from to decorate your castle for Halloween.  From the attached flyer you can also choose your favorites, call us @ 251.478.1484 and we will be happy to deliver. 
Like what you see?  Please join us on Facebook for more great decorations, fall plants and great gifts.
We are Your Total Care Garden Center.