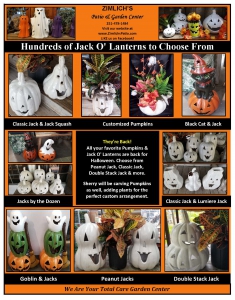 Your Garden Center has hundreds of Ghost Jack O Lanterns, Pumpkins and other decorations to choose from to make this the greatest Halloween ever.  Many favorites are back:  Double Stack Jack, Peanut Jack, Classic Jack, Jack Squash and more.  New friends include Goblins & Jack, Frankenstein and more.  Have fun and bring the family to pick out your favorite Jacks and decorations and make this the most fun Halloween ever. 
Like what you see?  Please join us on Facebook for more Halloween decorations, arrangements and Garden Tips.
We are Your Total Care Garden Center.