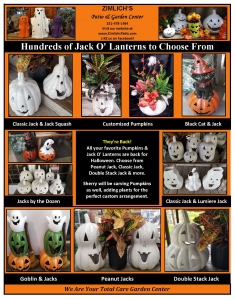 There is less than 3 weeks until Halloween and do you have your Jack O Lantern and Ghost Pumpkins yet?  If not, Your Garden Center has dozens and dozens of your favorites:  DOUBLE STACK JACK, JOLLY JACK, JACK SQUASH, PEANUT JACK and many more.  This will be our busiest week for Halloween décor.  So bring the family today and pick out your favorites, then let Sherry customize for that added fun. 
Like what you see?  Please join us on Facebook for more plants, arrangements and Garden Tips.
We are Your Total Care Garden Center.