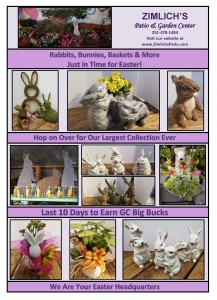 Hop on over to your Garden Center and finish your Easter decorating and gift giving.  We have dozen of bunnies in all sizes, shapes and in all designs.  We have hundreds of plants and flowers, beautiful pastel ribbon and we are still giving away GC BIG BUCKS with every $50 merchandise purchase.  And if you are time poor or out on town, just call us @ 251.478.1484 and we will be happy to deliver your purchase the next day. 
Like what you see?  Please join us on Facebook for more great plants, arrangements and gifts.
We are Your Easter Headquarters.