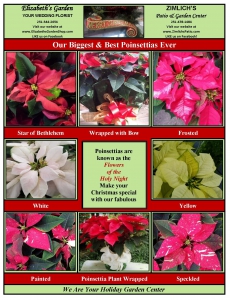 Donald says, "We have Our Biggest & Best Poinsettias Ever." Poinsettias are available in 4 colors and 4 sizes and range from 4 inch @ $6.99 up to 10 inch @ $39.99.  Poinsettias are known as "The Flowers of the Holy Night." and are probably the most popular plants.  Do ask our elves about our bow and wrap program and turn your Poinsettia plant into a great gift. 
Like what you see?  Please join us on Facebook for more great holiday plants, arrangements and gifts.
We are your Holiday Garden Center.