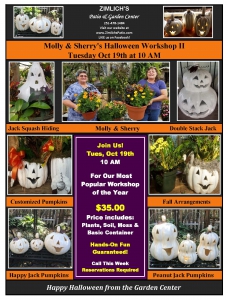 Last month's Molly & Sherry Fall/Halloween Workshop was a sell out.  So we are bringing it back in October.  Make your reservation today for Tuesday October 19th @ 10:00AM and we encourage you to bring a friend.  Registration fee is $35.00 and this includes plants, soil, moss & a basic container.  Make sure you bring your camera.  Molly and Sherry will be creating some new arrangements that will carry you through to Thanksgiving. 
Call tomorrow morning @ 251.478-1484 as our seating is limited.   
We are Your Total Care Garden Center.