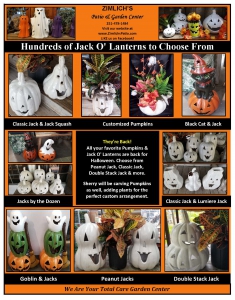 Peanut Jack, Double Stack Jack, Jack Squash and friends are back with some new friends to help you celebrate Halloween.  Donald and Tommy have purchased hundreds of Jack O Lanterns, White Pumpkins, Black Cats and other creatures for you to decorate this Halloween.  Halloween season starts this Wednesday so start your shopping and decorating this week and enjoy Halloween for two months. 
Like what you see?  Please join us on Facebook for more great Halloween characters, plants and Garden Tips.
We are Your Total Care Garden Center.