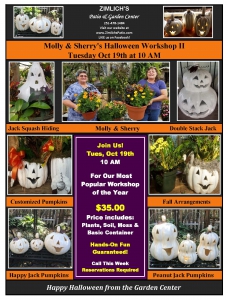 Molly and Sherry's Halloween Workshop II still has some seats available.  The workshop is tomorrow (Tuesday) and it begins at 10AM.  Call this morning @ 251.478.1484 to make your reservation.  Why not make it for two and bring a friend for twice the fun.  The price is $35 and you will receive plants, soil, moss, a basic container and a guaranteed great time.  You will also learn the art of creating arrangements just in time for the fall/winter holidays.  We'll see you there. 
Like what you see?  Please join us on Facebook for more great plants, arrangements and Garden Tips.
We are Your Total Care Garden Center.