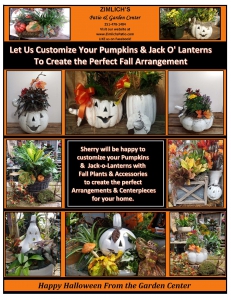 This year have Sherry customize your Jack O' Lanterns and Pumpkins with plants and accessories.   Crotons, Coleus, Marigolds and other greenery look fabulous with our Jack O' Lanterns and Ghost Pumpkins.  Just bring the family, choose your favorite Jacks and pumpkins, then select a favorite plant, add accessories and you will have a great decoration for your porch or window.  Customized merchandise can be picked up after 2 days. 
Like what you see?  Please join us on Facebook for more great decorations, arrangements and Garden Tips.
We are Your Total Care Garden Center.