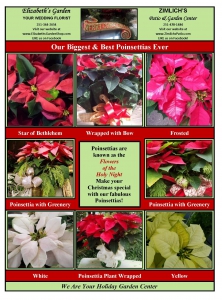 The 1st Saturday in December is "Poinsettia Saturday."  We invite you to purchase your Poinsettia, (Flowers of the Holy Night.) as our selection will be the best today for the entire month.  Shop early today so you are not late for the game.  You can also earn $5 in GC Big Bucks with every $50 merchandise purchase.  After selecting your Poinsettias, speak to our elves about our Wrap and  Bow Program and your Poinsettia becomes a great gift. 
Like what you see?  Please join us on Facebook for more plants, arrangements and great gifts.
We are Your Holiday Garden Center.